Date and Time:
07/10/21
10:00 am - 2:00 pm
Please join us at the Chanshtnu Muldoon Park Community Food Forest this Saturday July 10 from 10AM – 2PM for a work party. We need to:
    1) replace three dead trees
    2) replace a dead Nanking Cherry
    3) plant recent donations of Saskatoon Berries and an additional Nanking Cherry
    4) put down weed cloth along the north fence
    5) take down some of the temporary fences and top cut some of the apple trees
Please bring your own shovels and wood chip rakes if you have them. Below is a map if you need a refresher in how to get there. Please email / phone / text me if you have any questions.
Thanks!
Kristi Wood
phone/text: 907-278-2453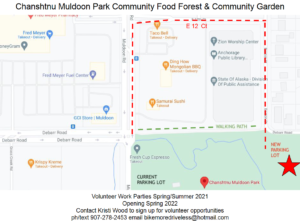 This event is categorized as: No Categories